Demir SÖNMEZ
Né à Erzurum-Cat, Il est Suisse, origine Armenien/Kurde il a fait ses études à Ankara (Turquie).
Depuis 1990, il vit à Genève et participe activement à la vie sociale et culturelle
Il est membre du syndicat Syndicom, Unia, CETIM, Reporters sans frontières, European Presse Fédération et Fédération internationale des Journalistes (FIJ)
Accrédité par le Palais des Nations Unies à Genève et le Palais fédéral à Berne
Il débuta le journalisme et la photographie dans les années 1980 en Turquie, mais il n'a pas pu les poursuivre en raison des répressions politiques.

Il a repris ses activités dans le domaine de la photographie en 2006.
Titulaire d'une presse Suisse RP et carte de presse internationale,il est de membre des Reporters sans frontières, Fédération internationale des Journalistes (FIJ).

Il suit de très près les activités sociales, culturelles et politiques à Genève comme reporter photographe.

Ses photos sont utilisées comme sources par de nombreux médias et institutions en Suisse, en Turquie et dans de nombreux pays européens.

A ce jour, il a obtenu plusieurs prix pour ses photographies.

Par ailleurs, il anime régulièrement un blog auprès de la Tribune de Genève où il a publié, depuis 2009, plus de 1000 articles et des dizaines de milliers de photos et vidéos.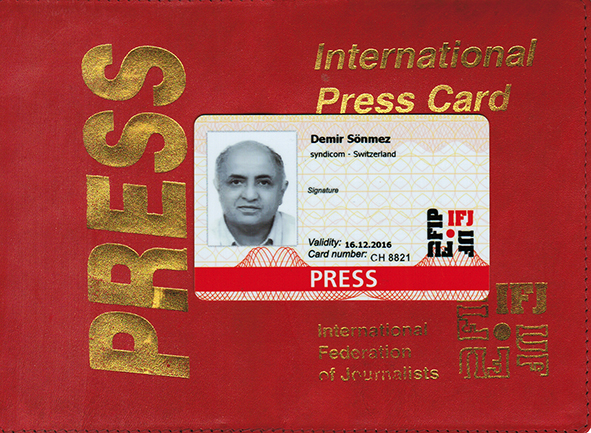 La photographie constitue un des éléments importants de la mémoire collective.
Au-delà d'une passion, la photographie est un mode de vie pour moi. Par sa position stratégique, Genève abrite de nombreux évènements internationaux. De plus, 182 nationalités y sont représentées parmi ses habitant-e-s. Ce qui fait que la vie sociale, culturelle et politique est très diverse et multicolore.. Ainsi, il est possible de croiser dans les rues de Genève des personnes parlant ou chantant dans différentes langues. De nombreux festivals et soirées organisés permettent de faire connaissance avec des personnes de différentes cultures.
En se rendant sur la Place des Nations, il est possible de connaître les multiples souffrances ou catastrophes sociales qui surviennent dans le monde. Les luttes sociales locales ne sont pas en reste, puisque vous pouvez être témoin de nombreuses mobilisations syndicales, d'événements organisés par des partis politiques ou de manifestations en faveur des droits des migrants par exemple.
Vous pouvez également assister à de nombreuses manifestations sociales, politiques, culturelles et sportives, organisées par des organisations/institutions internationales.
La richesse de Genève ne se limite pas aux manifestations précitées, elle possède également un environnement et biotope riche avec ses nombreux parcs agréables, son lac Léman et ses magnifiques vignes dont l'excellence de ses vins ne sont plus à démontrer.
En tant que photographe, mon but est d'enregistrer pour la mémoire collective ces richesses sociale, culturelle, politique et naturelle en les immortalisant avec l'objectif de mon appareil. Ce qui est primordial à mon avis quand on photographie, c'est de dépasser les préoccupations personnelles et de ne pas limiter cette activité à un hobby ou une source de revenus; mais c'est de transmettre les images de la vie dans toutes ses dimensions (luttes, résistances, victoires, amour, espoir, joies, douleurs, beautés de la nature, etc.), sans fard ni artifice. C'est pourquoi, je me considère non pas comme un photographe mais comme un reporter photographe.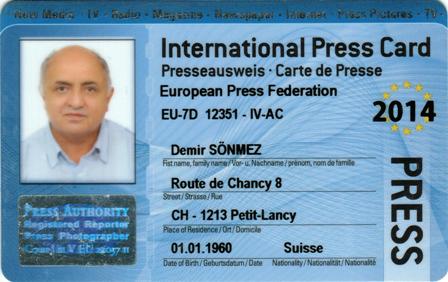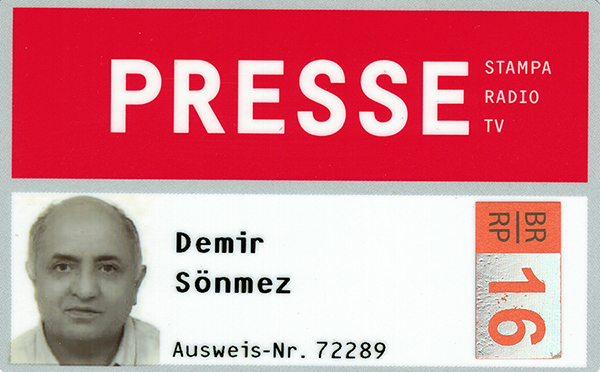 Born in 1960 in Erzurum. A Swiss national of Kurdish and Armenian descent. He studied in Ankara, Turkey. Since 1990 he lives in Geneva and actively takes part in the social and cultural life of the city.
He is a member of the trade unions SYNDICOM, UNIA and CETIM; Reporters Without Borders; the European Press Federation; the International Federation of Journalists (FIJ). He has an accreditation with the United Nations Building in Geneva and the Federal Parliament Building in Bern.
He started to work as a journalist and photographer during the nineties in Turkey. However, he was unable to continue working due to political repressions. He resumed his activity as a photographer in 2006. Holder of an international press card and  Swiss press RP, he is a member of the Reporters Without Borders and the International Federation of Journalists (FIJ). He follows closely the social, cultural and political activities in Geneva as a photojournalist.
His photos are used as a source by numerous media and institutions in Switzerland, Turkey and many European countries. To date he was awarded many prizes for his photos. Moreover, he maintains a blog at the Tribune de Genève where he published more than 1,000 articles and thousands of photos and videos since 2009.
Photography is one of the important constituents of the collective memory. Beyond being a passion, photography is a lifestyle for me. Due to its strategic location, many international events take place in Geneva. Furthermore, its population is made up of 182 different nationalities. Consequently, the social, cultural and political life in Geneva is varied and multicolored. It is therefore quite commonto come across individuals speaking or singing in different languages in the streets of Geneva. During numerous festivals and evenings one can get acquainted with people of different cultures. While visiting the United Nations Building, it is possible to become knowledgeable about multiple sufferings or social disasters happening throughout the world.
Local social struggles should not be left out since you may be an eyewitness of several union mobilizations and events organized by political parties or demonstrations in favor of the rights of the migrants, for instance. You may also eyewitness numerous social, political, cultural or sports events, organized by international organizations or institutions. The rich heritage of Geneva is not limited to the above-mentioned special events. The city has a rich environment and biotope with its many pleasant parks, its Leman Lake and magnificent vineyards and its widely recognized excellent wines.
As a photographer, my goal is to capture the rich social, cultural, political and natural moments for the collective memory by immortalizing them with my camera. In my opinion, while taking photos, it is of utmost importance to go beyond the personal concerns and not to limit this activity to a hobby or a source of income but to transmit the images with their full meanings (struggles, oppositions, victories, love, hope, joys, pains, the beauty of the nature, etc.) frankly and in a straightforward manner. This is why I consider myself as a photojournalist rather than a photographer.